Knitting Events at Kathy's Knits
Below you will find details on all the knitting events that are regularly run at Kathy's Knits.
Our Knitting Group meets at least once a month in the shop between 6pm and 8pm to knit, chat and discuss our projects. Please drop in if you can
You can find the dates of all events, group meetings, classes and more on our Calendar page.
ILLUMINATED KNITS, by Lucy Hague
Kathy's Knits, Broughton Street, Edinburgh
on 26thOct 2017.
Lucy will be signing copies of her new book Illuminated Knits, which follows her first one the highly acclaimed Celtic Cable Shawls, between 5pm and 7pm on Thursday 26 October at Kathy's Knits, Broughton Street, Edinburgh.
She will be very happy to discuss the book and answer questions then.
The book will be officially on sale at Kathy's Knits from Friday 27th.
Indie Burgh Craft Crawl
Kathy's Knits, Broughton Street, Edinburgh
on 17 June 2017.
Come and sample the amazing yarns and other items from Lindsay Roberts, aka The Border Tart at The Indie Burgh Craft Crawl on 17 June at Kathy's Knits.
Lindsay uses natural indigo to dye a wide range of natural fibre yarns used by knitters, crocheters and weavers. Some she overdyes with acid dyes to produce a range of complementary shades.
She also indigo dyes wool locks, vintage blanket pieces, pre-felt, silk hankies and wool batts for textile makers. Sari silk offcuts and buttons galore are also BorderTart staples.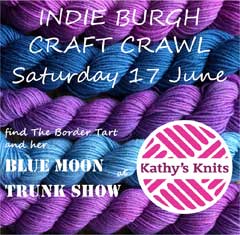 Indie Burgh Craft Crawl
Various Locations across Edinburgh
on 17 June 2017.
Following the success of the Indie Burgh Yarn Crawl over the last three years, the event has been expanded this year, beyond the three yarn stores, Ginger Twist Studio, Kathy's Knits and Be Inspired Fibres.
See "Crafty Destinations" for the details (Click for larger version). Join the crafting community for a bit of fun, supporting local shops and makers! Plan your route round the City with who you like and in your own time. Each shop validation on your "Craft Passport" counts as a raffle entry when you reach Hemma at the end, where there is a pop-up market, great food, and where the after-party carries on.
In addition, Kathy's Knits has The Border Tart in situ throughout the day with her specialist indigo yarns and other items for sale.
For more information and updates, follow us on Facebook and join the Ravelry group. To get your Passport just pop into the shop or come along on the day.
Knitting Group
Come along to our monthly knitting group at at Kathy's Knits, on a Wednesday night 6-8pm.
Our knitting group is a monthly social get-together with Kathy for knitters and yarn enthusiasts to have a natter over the needles with some home-kneaded scones and tea. We welcome you to bring your knitting and exchange patterns, share knitting tips and explore new ideas. All levels of knitters are welcome.
See our calendar for dates and times.
Future Events
Keep an eye on our website for new classes and special events, or, without obligation, you can receive early notice of all events by subscribing to our mailing list for regular email updates.