Welcome to Kathy's Knits
A Knitter's Haven in Broughton Street, Edinburgh
Kathy's Knits has brought yarn back to Broughton Street, Edinburgh!
Our Edinburgh knitting shop stocks a wide range of high quality British yarns in a warm and welcoming environment. You'll find all kinds of needles, crochet hooks, patterns, books and accessories, as well as fleeces and spindles for spinning.
Whether you're a seasoned yarnie or just starting out, our shelves are stacked full of inspiring ideas and solutions. And, of course, there's helpful support and advice on hand when you need it.
We run regular workshops, evening classes and a monthly knitting group at our shop. These are great for mixing with other knitters and learning new skills.
Our website can only give you a flavour of what we offer. There's nothing quite like seeing the yarn, feeling the texture, and being able to chat things over. So, we invite you to pop in, browse at your leisure, bring your knitting and let us help you with your latest knitting project.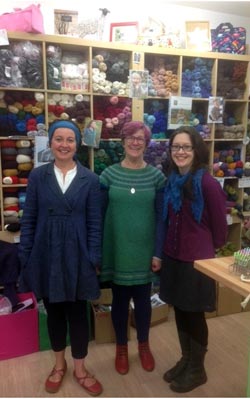 Finest British Yarns
100% of the stock in our knitting shop is sourced from small, independent farms and producers from within the British Isles. This helps to support smaller, local, sustainable farms. It also minimises the impact on the environment and allows us to offer some exclusive yarns, not available elsewhere in Scotland.
Our natural fibre wool, mohair and rare breed yarns are of the highest quality thanks to a combination of bulk, resilience, softness and warmth.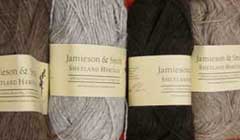 Knitting Products
At Kathy's Knits 100% of our stock is sourced from small, independent farms and producers from within the British Isles.
Knitting Classes
We regularly run evening and full-day classes for knitters of all abilities, from absolute beginners through to experienced yarnies.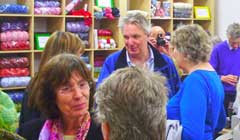 Kathy's Knits Events
Keep an eye on our website for new classes and special events. Or, without obligation, you can register to receive early notice.