Knitting Classes at Kathy's Knits
Here at Kathy's Knits we run regular knitting classes in our purpose built classroom, both in the evenings and at weekends.
You'll find the details of all the knitting classes being run at Kathy's Knits.
Please note that places are limited and are allocated on a first come basis.
To book onto any of the classes, use the button link below each class.
Knitting with Colour – 3 Week Course – May – June 2018
7.00pm – 9.00pm at Kathy's Knits
Tuesday 22 May, 29 May and 5 June 2018
£65 per person for the class

Have fun with colour while making a small case for your essential knitting accessories.
During this three-week block of colour-work classes, we will learn how to combine different colours to create beautiful designs. Starting with a simple, but stunningly effective slip stitch pattern, we will go on to explore "intarsia" and "stranded knitting" (of which Fair Isle knitting is a form) techniques.
Once completed, each panel will form part of your own fold-over case, created in colours chosen by you.
These classes are suitable for those who can already knit and purl and who wish to discover the delights of colour knitting.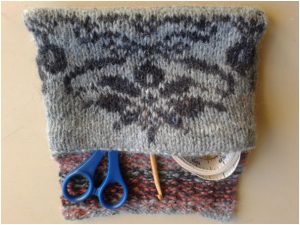 Professional Starting and Finishing Techniques – June 2018
7.00pm – 9.00pm at Kathy's Knits
Tuesday 12, 19, 26 June
£65 per person for the class

After dedicating all those precious hours to create your beautifully knitted fabric, don't let your approach to finishing and sewing-up stop you from producing a gorgeous "handmade" – as opposed to "homemade" – garment.
This series of classes will focus on those techniques to achieve a professional finish, including blocking, picking-up stitches for necklines and button bands, sewing-up seams using mattress stitch and short-row shaping.
These classes are excellent preparation for those about to embark on their first garment and for more experienced knitters who wish to improve their finishing techniques.
Knitting Classes – Tutor Profiles
Cathy Robb ('Kathy') is an enthustiastic yarnie with extensive experience of all things knitting. She has completed hundreds of projects over the years. From the most simple to complex she makes good use of her formal qualification in design, texture and colour. Kathy thoroughly enjoys sharing knowledge, and her desire to help fellow knitters develop new skills is as strong today as ever.
Katherine Lymer is a knowledgeable knitter and successful workshop tutor who enjoys teaching a wide range of subjects to groups all over the country. She is an experienced teacher and, over the last few years, has done much of her work with Rowan, the internationally renowned hand knitting company.
Kathy and Katherine are both active members of Ravelry, enjoy sharing ideas and views with fellow knitters and never stop learning themsleves.
There are also other specialist tutors from time to time.