Knitting Classes at Kathy's Knits
Here at Kathy's Knits we run regular knitting classes in our purpose built classroom, both in the evenings and at weekends.
You'll find the details of all the knitting classes being run at Kathy's Knits.
Please note that places are limited and are allocated on a first come basis.
To book onto any of the classes, use the button link below each class.
Learn to Knit
4 Week Course – September to October 2017
Learn to Knit – 4 Week Course: Sept – Oct 2017
Day:       Thursday Evenings
Date:     7, 14, 21 Sept and 5 Oct 2017 (no class on 28 Sept)
Time:     7.00pm – 9.00 pm
Venue:  Kathy's Knits Shop
Cost:      £85 per person for the class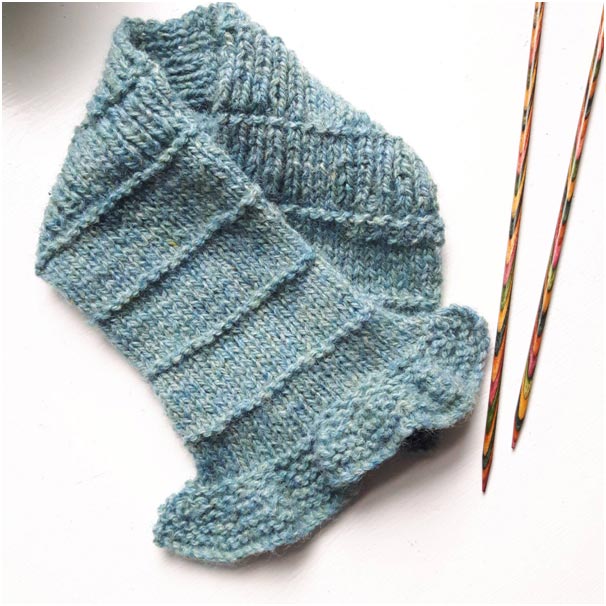 About the Class:
This series of four, two-hour classes is designed for those who are completely new to knitting as well as those returning to the craft and who want to re-familiarise themselves with the basics.
During our time together, we'll cover the techniques needed to complete your own beautiful scarf – the perfect garment to take us through our autumn to winter transition and an ideal first project. We'll learn how to cast on and off, knit and purl and change stitch pattern. We'll discuss the importance of tension and explain some of the commonly used knitting terms. An example of the scarf is shown to the right.
What's included:
The cost includes all materials (yarn, needles and project bag), your pattern, notes and tuition – so you just need to bring yourself!
Knitting Classes – Tutor Profiles
Cathy Robb ('Kathy') is an enthustiastic yarnie with extensive experience of all things knitting. She has completed hundreds of projects over the years – from the most simple to complex – making good use of her formal qualification in design, texture and colour. Kathy thoroughly enjoys sharing knowledge, and her desire to help fellow knitters develop new skills is as strong today as ever.
Katherine Lymer is a knowledgeable knitter and successful workshop tutor who enjoys teaching a wide range of subjects to groups all over the country. She is an experienced teacher and, over the last few years, has done much of her work with Rowan, the internationally renowned hand knitting company.
Kathy and Katherine are both active members of Ravelry, enjoy sharing ideas and views with fellow knitters and never stop learning themsleves.
There are also other specialist tutors from time to time.